UFO Watch Kitty

An independent observer catching and reporting ground level stories, events and tidbit news. Good deeds that go unrecognized. bravery, service beyond the call of duty and acts of kindness
of the two and four legged kind in the UFO and Paranormal field.
Watch out! UFO Watch Kitty is everywhere around the world!
She is nicely naughty and like most cats doesn't care what anyone thinks.


Curious only for posting news with merit, UFO Watch Kitty is very finicky and she doesn't drink toilet water.

Kitty News - Meow!
UFO Watch Kitty is studying the Maury Island UFO Incident and the
related B-25 Bomber Crash.
---
Presidential Candidate on UFOs.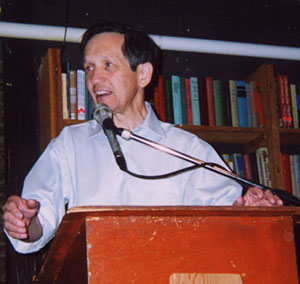 Congressman Dennis Kucinich - Pres. Candidate in Seattle on UFOs
by Charlette LeFevre and Philip Lipson
Kingdom Underground Newsletter Editorial , Seattle UFO/Paranormal Group
8/5/03

The Candidate with a history of disclosure.
Dennis Kucinich had just arrived at the Elliott Bay Bookstore in the quaint historic Pioneer District of Seattle from the University of Washington July 19th to talk to a small conversation club. The bookstore overlooks the blue waters of Puget Sound - the location where Seattleıs founding fathers first set up shop in the gold rush days. Over the years the bookstore has hosted prominent politicians and authors including Jimmy Carter so it was not surprising when word got out that Congressman and Presidential Candidate Dennis Kucinich (D-OH) would be arriving at the bookstore. Kucinich- a short dark haired smiling man dressed casual walked comfortably through the small crowd at the cafe, past the espresso line and the grinning faces of Hillary Clinton adorning the cover of her new book. Kucinich took the wooden stage and spoke for a few minutes before eagerly answering questions.
There were questions regarding the war and relations with Canada but there was one interesting question posed to Kucinich. The question was framed with comments that trust and security are a huge factor with our government and asked in the same vein that Bill Clinton said he would look into the Kennedy assassination and the question of UFOs before his presidency, if he himself would look into these areas if he was elected president. Without hesitating Kucinich said that he indeed felt a great loss with Kennedy and he honestly didnıt know if he could ever find the answers to those questions. He then questioned the intelligent life in Washington D.C. which elicited laughter from the audience but Kucinich then stated in a serious tone ³we would be arrogant to think we are alone in this universe². On disclosure, does Kucinich have the fortitude to ask the tough questions and follow through? At least in several instances it seems Kucinich has the background. Kucinich on disclosure used a rare House procedure known as a ³Resolution of Inquiry" to force the current Administration to provide Congress with a copy of the 12,000 page Iraqi declaration to the United Nations. People can now view the classified Iraqi document at: http://www.house.gov/apps/list/press/oh10_kucinich/030311doc.html
Kucinich then went on in his Seattle talk to say we should not be dominating other nations, that we need to be strong and he focus on repairing this nation. Standing up to corporations has been his trademark and indeed Dennis Kucinich has been a person who has walked the walk having marched with Seattle City Councilman Nick Licata in Seattleıs 1999 WTO protests. A candidate with foresight? Kucinich introduced the "Space Preservation Act of 2001" (HR 2977), which calls for the banning of all weapons in space and would outlaw all research and development for space-based weapons. Dennis then finished the question with ³We are all connected². Interesting, a candidate that refuses to sell out to corporations, marches with protesters defending humanity and encourages peace and cooperation. Is it any wonder that Kucinich has the endorsement from Mahatma Gandhi's grandsonıs? Keep your eyes on the stars and a watch on this guy.
The Seattle UFO/Paranormal Group makes no endorsements and is an independent lecture group not affiliated or governed by any outside political agencies or organizations.
Charlette LeFevre with Dennis Kucinich
---
Calves Dumped - Mystery or Secret?
The UFO and Paranormal investigators look at the unknown and the unexplained. Sometimes the reasons are very terrestrial
but no less secret.
The article below that made international news in Seattle, LA and Asia newspapers shows that cow and calf dumping have been going on for years in Central Washington.
Cows dumping has been an aspect of looking into substantiating the story and claims of a Northwest Mystery by Mel Waters
of ³Melıs Hole² - a supposed bottomless pit on Manastash Ridge where it has been stated that ranchers for years having been discretely using to dump their cows.
The Seattle Group has for the last two and a half years been searching for the hole and to date apects of the story what they have been able to
verify has checked out. Media has shown while investigating the mad cow disease that cow dumping
unfortunately is a practice that still continues in the region - for whatever reason. The Seattle Group hopes that by looking at the reasons and
indicators of cow dumping they will find clues and information on the location of "Mel's Hole" and if nothing else to create public awareness on this secret practice
that disposes our fellow creatures so inhumanely.


Dead calves line a ditch as a car passes along a county road next to the
Sunnyside Wildlife Area, Dec. 26, 2003, near Matbon, Wash.
The wildlife area and adjacent ditch, located just three miles from the dairy
farm where the nation's first case of mad cow disease
was discovered, has been turned into a dump site for dead animals,
everything from goats, sheep and calves to cats and puppies.
(AP Photo/Elaine Thompson)
An update on the Sunnyside calf dumping:
1/28/04
UFO Watch Kitty had the opportunity to inquire into details with WA Fish and Wildlife agent Rocky Ross on the two dozen calves
found dumped three days ago and to find out if there was any continuing investigation and to inquire if they knew of any further violations of cow dumping on Manastash Ridge and in the region - big clues to the Northwest mystery of Mel's Hole. Apparently cow dumping is an illegal act that is difficult to trace. Usually ear tags have been taken off and there are no indicators. Watch Kitty was informed the AP reporters had found two calves who had been recently dumped and the other calves were in various stages of decay. The USDA was called but cannot do BSE testing because calves (they believe) are too young to develop BSE. Unfortunately the Wildlife service doesn't have the resources to cart the calves away so the best they can do is haul the remains further off the road out of sight. Yup, over two dozen calves are still there.
Watch Kitty was informed though a few are usually gone the next morning likely by predators.
Is it amazing how the USDA made such a big deal about burying the madcow suspect herd of calves in a clay lined landfill yet these calves from the same area are left out in the open in a public parking lot? It would be expected the calf dumping would have stopped but to Agent Ross's dismay, on returning the morning of Wed. Jan. 28th he found another calf dumped and stated at this point he will likely call the Yakima Sheriff in for assistance.
Mad-cow likely to force higher rendering costs
By Shannon Dininny, The Associated Press
MABTON, Yakima County ‹ Rocky Ross jubilantly swung his sport-utility vehicle into the Sunnyside Wildlife Area, certain he had caught his prey: illegal dumpers. His grin collapsed to a wry smile when the quarry turned out to be two reporters caught peering at a half-dozen dead calves. The area, just three miles from the dairy farm where the nation's first case of mad-cow disease was discovered, has been turned into a dump site for dead animals ‹ everything from goats, sheep and calves to cats and puppies. Ross has managed the 10,538-acre wildlife area in this Yakima Valley town for more than two years, but the problem has gone on much longer. He attributes it to a few local farmers who lack respect for public lands and don't have the money to properly dispose of animals. The problem had nothing to do with mad-cow disease ‹ until now.
The Washington mad-cow case, ensuing international bans on U.S. beef products, and new regulations to prevent another incident raise questions about how dead farm animals should be disposed of, and whether the costs will rise too high for farmers. "It's still a big unknown," said Tom Cook, president of the Alexandria, Va.-based National Renderers Association. Farmers now are allowed to bury animals on their own property, dump them at licensed landfills or send them to rendering plants, where the carcasses are exposed to extreme heat and reduced to bone and tallow. Renderers used to provide their services to farmers free of charge. Rising costs and declining value of the byproducts forced them to start charging, Cook said. Recent events could drive those costs even higher.
The U.S. Department of Agriculture announced Dec. 23 that a Washington state dairy cow had tested positive for mad-cow disease, or bovine spongiform encephalopathy (BSE). More than 40 countries subsequently banned U.S. beef products, and Agriculture Secretary Ann Veneman announced sweeping changes designed to ensure the safety of the meat supply. Those changes include a push for a national animal-tracking system and a ban on slaughtering cows that cannot walk unaided, the same animals most likely to be tested for the disease. Veneman said the changes may require that testing be focused on rendering plants instead of slaughterhouses. But adding testing to the rendering plants' duties only adds to their costs at a time when their products are being turned away under the ban, Cook said. Baker Commodities, a California-based rendering company that operates in 13 states, lost $500,000 just by making its ships turn around after countries banned its products.
Farmers who have their dead animals rendered typically pay $25 to $55 for a full-size animal, said Ray Kelly, Baker's executive vice president. "Since BSE, it's probably going to go up." As expected, the impacts are trickling down. Dan Bulski's meat-processing company in Bozeman, Mont., pays about $35 per week to a rendering company to haul away carcasses. "It's going to go up," Bulski said. "With the rendering companies, it's been a struggle for them to make it. Now, with this mad cow, there's going to be some more fallout." Bulski couldn't say if the fallout includes illegal dumping. The vast majority of farmers and butchers follow the rules, he said, but he pointed out that many landfills reject animal waste. In a 1,000-acre section of the Sunnyside Wildlife Area, the dumping has been going on for years. In his first winter on the job, Ross found 31 animal carcasses between December and February.
Farmers in Washington state can bury animals on the farm as long as they are buried with at least two feet of soil cover on top, 10 feet above the seasonal high of ground water and 100 feet away from wells or other surface waters. Still, most choose the rendering process if they can afford it, said Art McEwen, an environmental-health specialist with the Yakima County Health Department. Most also follow the rules, Ross said. Aluminum cans, beer bottles and paper far outnumber carcasses among the garbage dumped at the wildlife area, he said. Ross almost laughs about catching the culprits. "I'm not sure I want to," he said. "There's days I'm in pretty good humor, and there's days that I'm not."
http://seattletimes.nwsource.com/html/localnews/2001843782_madcow26m.html
Descending into an Underground Pyramid
- a tour of a former secret Titan 1 Missile Base in Washington State.
by Charlette LeFevre and Philip Lipson, Seattle UFO/Paranormal Group
11/23/03

Bari Hotchkiss making a snowball at the entrance to the the Titan site and an illustration of the complex.
The Missile Base couldnıt be seen from above, it was only known to a few yet for two and a half years during the 60ıs it held the worldıs very existence in its hands. Situated between the towns of Moses Lake and Euphrata in the state of Washington is a former Titan 1 missile complex with tunnels and shafts going down five stories to sixteen buildings. The 57 acre location is now up for sale and permitted us an opportunity for a review and article. Below is a brief account of our tour taken Nov. 22, 2003.
We started out early from Seattle and drove past fields of flat pristine snow to central Washington, down a driveway lined with tall poplars acting as standing sentinels to the front gate of the Titan I complex. Barb wire and tall fencing framed a warning sign on trespassing to what looked to be just an empty field.
Bari Hotchkiss the owner directed us to the only structure visible above ground - a small concrete door which is held open by two large steel anvils. After donning hard hats and taking flashlights, we descended down long flights of stairs circling a large elevator shaft and reached one of the main tunnels. Everywhere there was steel, wiring, concrete. We entered the control room which at one time housed the personnel and the various other rooms which housed equipment and supplies. All the time we were walking between rooms, Bari was answering questions pointing out history and features and details. The tunnels were dark quiet and cool.
We next came to the antenna silo which was especially amazing. Built in case the above ground antenna was damaged, a back up antenna was housed in this silo to continue communications. We next came to one of the three silo at the far end of the complex. The tunnel met the silo near the top and a person can peer down 150 feet. Large, dark, ominous, it wasnıt hard to imagine it once held a nuclear missile.
The powerdome Bari showed us last and it was breathtaking. At 125 ft. diameter with a 70ı ceiling It was like entering a small arena or some might describe as the inside of a UFO. The dome curved to meet the platform which stood another ten feet off the ground. It was like entering an ancient Italian basilica or a small Kingdome - Seattleıs now demolished arena. What amazed us was the acoustics. You could talk in a normal voice and be heard anywhere in the room. Bari had previously opened the top of the dome to let in light and remove debris so the winter sun was shining down. For a moment I expected to see doves fly out among bits of debris upon entering this silent tomb.
From there the tour ended and we discussed details in the mobile home they have on the property. There have been many uses and ideas for the complex but whatever it is used for in the future the overwhelming feature is that it will likely outlast any existing structures. With no water seepage and its stable location it indeed makes it a attractive for usable space.
Titan Strength
Built to withstand a 1 megaton blast within 3, 000 feet the Titan I missile base was built at now decommissioned Larson Air force Base between 1959 and 1962. Armed with three nuclear warheads atop three Titan rockets if launched would have traveled 18,000 miles an hour and used one ton of fuel a second. The reinforced walls were built up to 14² inches thick and its unique features include floating floors in its two domes to assure stability with any ground movement or seismic shock upto 3g maximum acceleration. Another structure is a portal silo for a 10 ton freight elevator and access and numerous escape shafts. An antenna silo was built to assure continuous communications and the complex houses two 30,000 gallon water tanks. The missile is not only safe from man-made disasters but also safe from natural disasters such as earthquakes, eruptions, chemical/bio attacks, storms - any destruction that any facility above ground would collapse making it an ideal climate as a very secure backup facility for any company. The Washington site was one of eighteen in the nation and would have cost 44 million to construct (in 1996 dollars). The owner though calculated today just the concrete alone would have cost close to 50 million.
Bari at first developed a camp for kids that ran for several years and much of the debris and trash that had accumulated on the property has been removed and shade trees have been planted to provide a more accommodating above ground entry. Back in the eighties and nineties there was many decommissioned former missile bases were put up for sale by the government or turned over to the cities and towns after their surplus was sold in the 60s and 70s.
We left with a better understanding that this location - one of intense security has become an empty sarcophagus like tomb harkening back a bit to the pyramids in Egypt which fell into ruin because of the change in leaders and political climate. Today aside from current military structures the Titan site is possibly the safest place in the world from nuclear attacks and natural disasters. It is interesting to ponder that perhaps the Titan site like the pyramids awaits another pharaoh to take over and live into antiquity.
_____________________
Bari Hotchkiss is taking serious inquiries on the sale of the complex and is open to joint ventures or long term lease. Information on the site is at Ebay and Bari can be contacted at barihtochkiss@cox.net
UFO BC's study on Mysterious bisected cat mutilations
http://www.ufobc.ca/Supernatural/AnimalMutilations/cat.htm
---
Memorial to one of UFOlogy's Greatest Media Editors
UFO Magazine UK Graham Birdsall
From Philip Lipson who attended the "Celebration of Life" Sept. 30th of Graham Birdsall in Leeds England.
"I had the unique opportunity to go to England last week for the occasion of honoring the memory of Graham Birdsall, who passed away September 19th. He was the leading figure in the British UFO Community and founder and publisher of the British UFO Magazine. I went to his funeral at a historical church in Leeds, which is in Northern England and then later to a Celebration of his Life at a nearby hotel. I got to meet Peter Robbins and Larry Warren co-authors of Left at Eastgate about the Bentwaters case, a strange UFO case which is considered the Roswell of England. I had previously met Peter at The Mcminnville ,Oregon UFO fest. I was hosted by two university students Sam Smith and Liz Allen. Liz is a UFO photpgrapher and artist whose work has been featured in UFO Magazine. Sam is writing a dissertation on the sociological characteristics of the UFO Community. I also brought my recent compilation of material on Mel's Hole which had been previously featured in Fortean Times. England's UFO community seems quite cohesive and cooperative with each other. Every town has their own UFO group and Graham see,ed like the person they rallied around and was the central figure in the country." - Philip Lipson
In Memory


Graham W. Birdsall
(Editor UFO Magazine).
7th April 1954 - 19th September 2003

The Seattle UFO/Paranormal Group sends our thoughts and our
condolences to the Birdsall Family.
Graham was a man that was a shining presence, looked to the stars and is now one.

Memorial Site by Australian UFO Research Network

From A.J. Gevaerd

Dear friends and Colleagues:
It is devastating to know that Graham is gone. He was a dear friend and partner. Graham was an outstanding man and UFO researcher. A loving father and husband, a caring friend and a responsible person. A man who has done a remarkable job for Ufology in the UK, Europe and all over the world. He will be deeply missed. In this sad moment I can recall that just a few weeks ago, when Engllish UFO pioneer Gordon Creighton passed away, Graham wrote a beautiful tribute to him. Now he is joining Creighton. The World UFO community has lost two great men in a short period of time. Go in peace, my friend. You may now know the final secrets about our "other" friends. - A. J. Gevaerd

Cards can be sent to: The Birdsall Family C/o UFO Magazine, Lloyds Bank Chambers West Street, Ilkley LS29 9DW , United Kingdom
UFO Tidbits - October
Heavy Slug?
Watch out for the lastest in case development on the Gary Lowrey encounter cases involving his family
with Dr. Roger Leir and posting at this website at www.alienscalpel.com. The Fire Inspector from Bakersfield
California and his family were having regular encounters with an entity materializing in their closet. The father decided to
set up cameras and a towel draped over foil to obtain physical evidence of these encounters. An artifact or what was
thought to be a "claw" from the entity was found in the towel along with an impression. The claw was recently analyzed by
NIDS - National Institute of Discovery Science to be a slug yet nobody has yet been able to explain
the footprint impression found at the same time and the anamalous images
caught on videotape which are still under investigation.
Photos of Gary and the impression at the Seattle Group's photo Gallery.

Photo of "footprint" and impression made by a claimed manifestation in the home
of Gary Lowrey, Fire Inspector Bakersfield CA. Photo by Charlette LeFevre.
8/7/03
Update on Cat Mutilations
Christina Vourax of the "Dumb Friends League" Investigations Dept. stated regarding the recent
cat mutilations, "It has been determined that it was done by predators and the Police Department is closing the case"

Humane Society of Utah John Fox stated "The deaths were caused by foxes and coyotes."
John thinks its happened before but with feral cats as the reason it previous cat mutilations have not been|
documented or reported. John Fox also stated "Because of recent droughts the foxes and coyotes have gone into more residential areas"
As to whether agencies have cleared out or relocated the foxes, He said they haven't cleared out the fox dens. "There's too many to clear out"
He imagines there have been more but they haven't been reported.


7/1/03
Animal Mutilations

Kitty Mutilations in Denver and Salt Lake City
Lamb Mutilation in Canada
Investigation by Fern Belzil.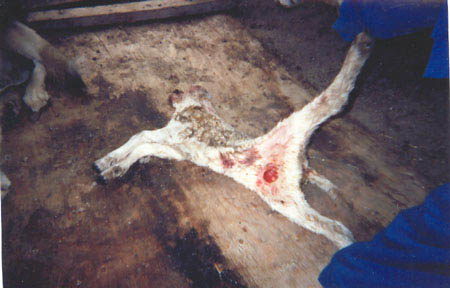 From Investigator Fern Belzil Alberta Canada.
" This mutilated lamb was only 2 days old. was born in an enclosed solid board fence. No preditors could possibly get into this corral. Both the eyes were taken out. the rectum uterus were removed and the intestines taken out and were lying a few feet behind this poor baby in a small pile. What is interesting is the intestines were not tornapart or severed in any way. The most amazing was the udder area, where a very neat incision, completly round, no teeth or knife marks, but looked like a laser cut. This was one and a half inch
diameter. Very little blood. - Fern Belzil.
Website, Click on Fern Belzil at
http://www.ufobc.ca


Latest recipient of the UFO Watch Kitty Purr Recognition!
Fern Belzil
of Alberta Canada


Service - For investigating with dedication six years of mutilation deaths of animals.

Fernand ³Fern² Belzil was born and raised on a his ranch in St. Paul Alberta Canada and raised cattle - specifically purebred Polled Hereford cattle most of his life. He and his family were fortunate to win championships at major bull sales and cattle shows, Calgary, Edmonton, Regina, and San Francisco as well as others. Fernıs background includes being a judge at major In Montreal , Quebec city, Class A & B fairs, and 4H shows. Fern was introduced to investigating animal mutilations when Canada was celebrating its centennial year in 1967 and when the city of St Paul built the first UFO landing pad in the world as a tourist attraction. The city had a toll free hotline for anyone to call about anything paranormal, ufo sightings , abductions, crop circles, mutilations etc. Fern Belzil on day was asked to help investigate when the chamber of commerce got a call from a cattlemen that had a mutilation and wanted help. Six years and 70 cases later, Fern is still investigating. Fern has now documented six cases of cattle mutiliation so far this 2003 year. He calls them UAD ( unidentified animal deaths) and the animals so far involve Elk, dog , cat, lamb, buffalo, moose as well as cattle. Fernıs background as a cattlemen has been a real advantage for him and a plus in investigative reports.
---
6/30/03
Sean David Morton's Update - New Movie and expecting Kittens!!
Sean has made the jump from TV to feature filmsrecently writing and directing his first lage movie, a mystery/horror/comedy called "JOE KILLIONAIRE", an obvious take off on the FOX TV reality show. It is meant as a lampoon and lambasting of reality TV with some twists and turns. In the movie all the girls go to the "Chateau De Morte" in the South of France in hopes of marrying the newly annointed "Duke of Boofington, 14th Lord of Ticklebottom".
The catch in the movie is that he is really a hockey dude from Mikelteo, Washington who works in a Corn Dog Hut called "Corn-Hole-Leo's" and when the girls arrive at the Chateau, instead of getting voted off, they all start to mysteriously die one by one.
Sean's pal Eric Hanson (from Mikelteo, WA) is the star in his first acting job. Production was less than 40 days from concept to financing to casting to Sean then writing the script (after we had cast the movie) to shooting to wrap up all for under $4 million.
A Top Notch crew:
Sean had the rock band P.O.D. show up to say hi, and Sean cast Sandy Girard who is the girlfriend of his pal Anthony Micheal Hall.
Sean's director of photography, Buzz Feitshins, (Die Hard with a Vengence)
Key Grip lighting designer, Cranston Gobbo, did seasons 9 and 10 of THE X-FILES when it moved down to LA from Canada.
Melissa Morton- Sean's new wife was the Unit Production Manager.
Sean and crew are working on the website, JOEKILLIONAIRE.COM, and should have a full cast list and photo gallery up soon. They are going to feature the girls as their characters, and let people vote on their favorites, etc.
Kittens!

Sean has a cat named Bella expecting kittens any day now, so they will have FOUR brand new little pure bred Norwegian Forrest Cats coming into the world.
Hopefully when the kittens arrive, we will post photos.
Touring! Egypt
Sean recently completed a sold out SRV weekend retreat in Santa Barbara two weeks ago and will have another weekend SRV retreat coming up in San Fran August 22-24. Then he has been invited to go to HAWAII and speak to all the folks there who are forming THE KINGDOM/NATION of Hawaii, which just won a number of court cases upholding their treaties.
Then the Morton's are planning a BIG trip to Egypt for November 2 to 14 for the HARMONIC CONCORDANCE. They are doing an Initiation in the Great Pyramid and will sail down the Nile, AND have access to all the restricted sites, like the TOMB OF OSIRIS under the Sphinx Temple Complex. Sean really thinks it will be their last chance to go before all hell breaks loose and for him... it just the beginning!
---
6/6/03
McMinville UFO Fest Review
http://www.oregonuforeview.com/McMinnUFOFest.html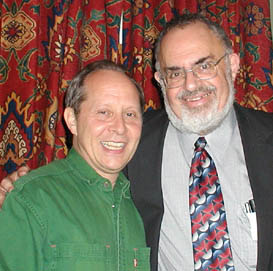 Peter Robbins - co-author of "Left at Eastgate"
and Stanton Friedman at the McMenamins UFO Fest in McMinneville Oregon.
UFO Watch Kitty just loves Stanton's furry eyebrows. Purrr!

Alien Queen for parade, Alien Queen in her secret human form discovered
at the Steiger Haus Bed and Breakfast.
Attendees and UFO Fest organizer Tim Hills.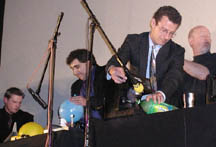 Oregon Radio Group recreates "War of the Worlds". It was extremely interesting how they used devices such as an expresso machine, sheet metal and balloons to recreate eerie sounds.
---
Report and Disclosure of Brazil's UFO Sect
Information on Brazil's Urandir Oliveira "Project Portal"
The public deserves the truth - the whole truth and nothing less.
Why people in Brazil are calling Urandir's Project Portal another
Jim Jones "Jonestown" and Heaven's Gate


Urandir and his sect followers near his compound in Brazil. Photo provided by A.J. Gevaerd.
Click here for the full Report
---
5/2/03
______
The Portland Alien Museum opens June 14th, and is located at 1716 NE 42nd Ave. (503) 452-9663
______
Three Cows, Bull Calf Mutilated Patrol Says Omaha World-Herald http://www.omaha.com/index.php?u_np=0&u_pg=36&u_sid=714241
____________
Review of Sci-Fi Channel's "The Secret" and UFO Chronicles
Great shows! For those that didn't have a chance to catch, these shows were seen back to back, showing interviews of abductees, UFO cults and the MJ12 Documents. Rael - put on a shirt! You've got more fur in your armpits than Stanton Friedman has on his eyebrows! Great graphics, lighting and digital effects but the analysis of the typography, ink and disclosure of what was UNDER those black mark outs got UFO Watch Kitty purring. We want to see more! http://www.majesticdocuments.com
_______
From International UFO Congress - To Our Friends and Colleagues:
It is with much sadness that I write this letter to you, but one of our favorite researchers/speakers needs our help. Most of you who have attended our events are familiar with Mark Bean. If not, he is a brilliant young man in the Las Vegas area who has done extensive work in the New Energy Field, and done several Tesla based presentations at our conferences. Eighteen months ago, Mark was diagnosed with Carcinoma of the lungs. At that time, the doctors felt he only had about 6 months to live. Mark entered into an experimental treatment program, which put the cancer into remission. The down side to the treatment was that it affected his vision to the point he was almost completely blind a year ago. Several operations restored most of his vision, and things were looking up for him again. But, several months ago, the cancer returned. As he had no insurance, the treatments have been extremely costly. And the cancer and blindness affected Mark's ability to work most of this time. So now, he is financially devastated, and very sick. He has lost his home, and sold most of his possessions to raise money for treatments. He is now severely in debt to his doctors, and homeless. He has applied for a program which will cover most of his health care, if not all. But, if approved, it will not become effective for 60 days. The problem is - without immediate treatment, he won't live that long! Mark has found a doctor in California who is sympathetic with his plight, and will do the necessary chemotherapy and radiation treatments at cost. We desperately need to help Mark raise the $4300.00 he needs to save his life. We are asking everyone who can help out with any size of a donation to please send it to:
Mark Bean 4894
Lone Mountain Rd Box # 201
Las Vegas, NV 89103
Time is of the essence, as he needs to start these treatments as soon as possible. So if you are able to help Mark - even with $10.00 or $20.00, please do so. And in addition to financial support, cards and letters and prayers and healing energies are also needed and appreciated.
- Bob and Teri Brown International UFO Congress
---
Kitty Happenings!
May 8, 9, 10, 11 - MCMENAMINS 4TH ANNUAL UFO FEST McMinnville, Oregon. Keynote speaker is Stanton Friedman "Critiquing the Roswell Critics" and Peter Robbin who will present on the Bentwaters/Woodbridge UFO Incident: England's Roswell. www.ufofest.com
4th Annual UFO Fest at Hotel Oregon McMINNVILLE, Ore. McMenamins Hotel Oregon hosts the 4th Annual UFO Festival exploring and celebrating the realities and possibilities of life emanating from beyond planet Earth. This year's festival-the second largest UFO festival in the nation-boasts an expanded three-day program including a presentation by internationally renowned nuclear physicist and ufologist Stanton Friedman, as well as Peter Robbins, UFO Magazine columnist and Editor-in-Chief of UFOcity.com, who joins the line-up thanks to the generous support of the Sci-Fi Channel. Celebrating McMinnville's Trent UFO sighting of 53 years ago, the festival and fun continues all weekend long with a myriad of UFO-related events.
Purring Praises!
In recognition of service to the field.
Aerielle Louise
of Minnesota Talk Radio
Service - For continuing to be informative in the arena Internationally, assisting with programing speakers and being a "one-woman" information center to many in the paranormal radio industry.
| | |
| --- | --- |
| Heather and Gar Bergstedt | Service - For continuing the Denver Chat Club "The Listeners" on UFO and like topicsand its newsletter for seven years. |
| | |
| --- | --- |
| Peter Davenport | Service and Acts - For his tireless effort the last seven years in documenting UFO Report sightings daily at the National UFO Reporting Center , donating numerous presentations and talks and supporting other researchers and organizations in the arena. |
| | |
| --- | --- |
| A.J. Gevaerd | Brazilian UFOlogist - Bravery - for assisting the public in speaking out against Brazil's UFO cults. |
| | |
| --- | --- |
| Sean David Morton | Acts of Kindness - donating his speaker fee back to the Seattle Metaphysical Library in 2001and introducing Dawn Roddenberry to the library. |
Many more upcoming each month!

Animal News
Orville- the mouse, is the 1st Worldwide Electronaut.
On January 8th, 2003, ORVILLE, the mouse, has done successfully two historical flights as a test
pilot of the Lifter "Maximus". ORVILLE is now the 1st Worldwide "Electronaut " pilot which has done a flight aboard a propellantless electrokinetic craft.
http://lifterproject.online.fr/orville/index.htm
_________________
"Suzy", the golden retriever of the Jonathan Reed alien encounter claim is alive and last known to be fine. According to Jonathan's girlfriend of fifteen years until 1998, Jonathan never owned a dog being allergic to animals. Additionally, according to an employee of the West Seattle gas station where the co-author of Jonathan worked Suzy was identified as the golden retreiver next door and her real name is "Charlie" and she is a he!
---
Memorial
Casey Holt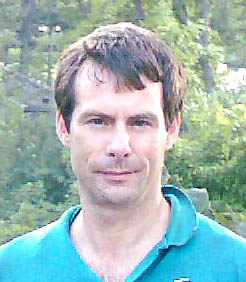 - Minnesota MUFON Investigator.
---
Connection between Cats and Extraterrestrials

Coming soon!
---
UFO Watch Kitty can be contacted through the Seattle UFO/Paranormal Group and occassionally makes updates on the Lou Gentile show. www.lougentile.com

If you know of an acts of unknown kindness or outstanding service performed please drop UFO Watch Kitty a purring praise
to her owner at: clefevre@oz.net
UFO Watch Kitty - is a white kitten inspired by an actual kitten adopted from a local animal shelter.
Female and feminine in nature she is of alien origin with blue alien eyes is owned by the Seattle UFO/Paranormal Group
a mascot of the Seattle Museum of the Mysteries non-profit in the Northwest.